EOD thoughts
Details

Published:

01 October 2016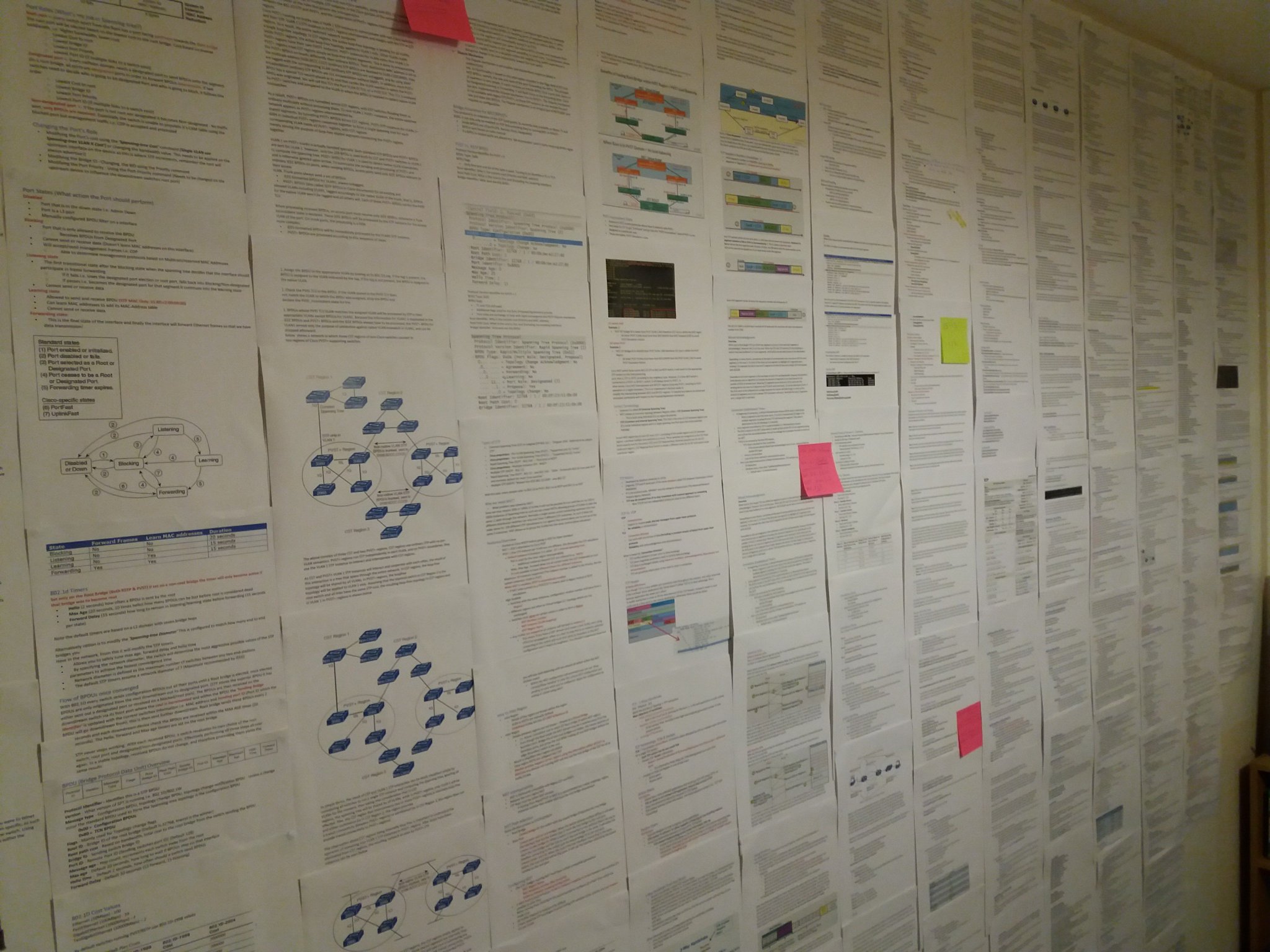 I am almost done with reading the CCIE R&S written exam topics. I still have to go over QoS, Multicast, Services and Securities (for the second time) and for the fist time over the Evolving technologies new chapter. Of course by the time when I reached this point I almost forgot most of the topics that I read before. I also finished most of the AT labs for the above topics from INE. The ideas expressed in this article resurfaced in my mind after seeing two recent tweets https://twitter.com/RyanBeney/status/781997372809314304 and https://twitter.com/IPv6Freely/status/781676548805898242 Similar opinions were expressed by Tom Hollingsworth and his readers in two articles here and here and a couple of other examples can be found on Twitter.  I say "resurfaced" because I expressed similar opinions (read here) on the Cisco's Learning Network forum but they were censored.

Bottom line: people with experience and who passed the written exam can not pass it anymore, they find the questions irrelevant and they are about to give up trying. So this is not a sour grapes problem as some of the most devoted (and biased) Cisco people would like us to believe.
As far as I am concerned I have not tried to pass any of these exams and this is because I never felt prepared (might be because of a healthy dose of perfectionism). However due my inclination to do the things (some of them, the ones that I consider that matter) the best I can, I put a lot of effort in my preparation for these exams. This might be the reason why I often find myself surprised that X or Y CCIE does not know certain things which I consider that should have been understood as a preliminary condition to become a CCIE. I can not really understand how these guys passed the tests. I think that for somebody like me this tests are a nightmare and somebody like me will never feel prepared. Probably the only cure for this is to simply go and surprise myself by passing the exam.
During the many years of on/off learning (due to major disruptions in my personal and professional life) I have learned more about myself than about the things that I am studying and this kept me going. Excepting the fundamentals that never change many of the topics of the exam are simply trivia or technical trash that Cisco wants us to know for marketing and commercial reasons. What we do in real life is so far from what you learn from these tests that it is hard to believe. That stands true for many Math and Physics tests that I took over the years while I was in University but there were so many other more practical disciplines where the tests were not just collections of tricks but real problems that you could run into in real life.
Having the above said I strongly believe that the CCIE R&S written and lab exams should be reviewed and fixed and here the things that I believe are wrong and some suggestions:
-the candidate if forced to rote memorization and there is a lot of trivia that should never be part of a question (ex:what port is  used by X, what is the value of the Y timer, inconsistent use of priority number meaning between various protocols –for some lower is better while for others use lower as worse etc etc)
-the amount of knowledge that is being tested during a single exam is simply insane and by the nature of the test and the time allocated for it it is nothing more than a Russian roulette 
-to fix the above, the written test should be broken into a couple of  more in depth exams (with the option to go for all in one but more extensive and longer exam if you feel you can do it)
-the test must be focused on understanding things not on remembering things
-the topics must be relevant and practical not just tricks ( here is an example where RIP updates are tunneled via multicast in order to establish adjacency between two routers but the data that should be routed using the routes learned this way will never be routed by that topology)
-judging by the many horror stories posted on Internet about the lab, speed is essential and knowing as many commands as possible off the top of your head is important. I really don't see the point here, a CCIE is rarely used by his employer for solving problems that must be solved around the clock. This skill is required mostly when outages or disasters hit and most of these cases should be avoided by the very presence of a CCIE at the wheel of that network (his work on designing and configuring the network should prevent such incidents or reduce them to minimum)
For the above described reasons I believe that the current design of these exams forces the candidates to use a type of learning that has nothing to do with the modern process of learning but rather resembles the learning in the ancient religions schools.
The other important thing that MUST be changed ASAP is the way the labs sessions are conducted. Form what I hear currently there are a couple of scenarios that Cisco uses and that are slightly changed in order to prevent cheating BUT the essence of the scenarios remains the same. Practically if a scenario leaks, a candidate who gets his hands on it might become familiar with a good part of the lab and the only challenge will be to solve the issues that are really new. The lab seems to be graded by a script and that probably makes it difficult to completely change the labs. I know that it is difficult to stop from cheating candidates who team together and brain dump the exams and then pass the exam in the second attempt or in the third, simply because Cisco can not come up with new scenarios for each candidate or group of candidates.
Cisco takes pride in comparing these exams (the CCIE exams) with a degree in engineering or something similar. I beg to differ, they are quite far from each other. First of all you need four years or more to get a degree. The second major difference is that each exam that you pass in University is unique. The professors take their time and create new exams and there is no exam leaking, the exam that you passed this year will have nothing to do with the exam that the students take next year. I think that Cisco should make the exams available  every 6 months. With the current option to virtualize he labs it should not be a problem to provide any number of virtual lab seats for any number of candidates like they do for mobile labs.
The sooner they fix the above the sooner this certification will regain its authenticity and relevance.
As far as I can see only cosmetic and marketing efforts are being made to fix the things
Updates:
You can read similar stories about cheating here:
17-10-2016: http://www.802101.com/2016/10/pass-without-dumps.html